Sunstar News
< Return to All News Articles
Sunstar honored with three State EMS Awards
July 18th, 2014 | Awards
Sunstar was recently recognized for three awards during the Florida State Department of Health, EMS Awards Ceremony held on July 16. The awards included, Jay Horne for Emergency Medical Technician of the Year, David Selbach for EMS Injury Prevention, and Sunstar for Video of the Year.
Horne, EMT for Sunstar, was recognized for his role in responding to Ireland Nugent's tragic riding lawnmower accident. Horne assisted in transferring Ireland, who was two years old at the time, to the Bayflite crew. During this emotional call, he exhibited top-notch emergency response skills with the highest level of calm and competence. Ireland had to undergo two below-the-knee amputations. Since the accident, she has had a successful road to recovery and is walking with the help of prosthetics.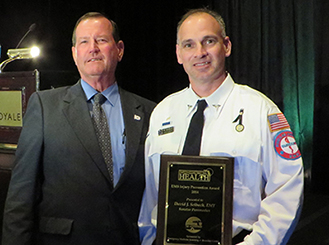 Selbach, also an EMT, received the EMS Injury Prevention Award for his work in promoting child safety best practices. As a Child Passenger Safety technician, Selbach instructs parents and other community members on the proper installation of child safety seats. In order to keep up with best safety practices, Selbach has to meet regular recertification requirements, stay current on knowledge of new and recalled car seats, and participate in continuing education courses.
Sunstar was honored with the Video of the Year Award for its memorial video created in remembrance of Christopher Jennings, exemplifying the theme of EMS Week "EMS: Dedicated. For Life." Jennings, alongside Horne, was among the first emergency responders on the scene of Ireland's lawnmower accident. A few short months after reuniting with Ireland and her family, Jennings was killed in a motorcycle accident on his way home from work. Sunstar's video illustrates the dedication Jennings showed for his profession and the lasting legacy he left behind.